Teacher Training
with Barrett Reinhorn
LEVEL 1

FALL 2020 in Cambridge, MA

PRICE:

$750.00

($675 if registering 30 day early)
LEVEL 2

FALL 2020 in Cambridge, MA

PRICE:

$750.00

($675 if registering 30 days early)
The 40-hour Level 1 training offers yoga teachers a comprehensive course in how to teach prenatal yoga to all pregnant women.  
Level 1 training includes:
Yoga asanas for the physical/anatomical and well as mental/emotional journey of the childbearing year
Therapeutic applications of the asanas for the common conditions of pregnancy
Observation of prenatal classes, and practice teaching in actual prenatal classes
Opportunity to go deeper into your overall teaching with feedback, guidance and support in a small-group training
Business ideas for prenatal teachers – finding classes, marketing, and pricing
Comprehensive manual and audio podcasts of teaching sequences
This training includes ample hands-on experience.  In the first half of the course, participants will observe Barrett teaching prenatal classes.  In the second half of the course, participants will teach students themselves, and receive feedback and guidance.  In addition, participants receive a comprehensive manual and access to audio podcasts and prenatal picture sequences.
Prerequisites:
LEVEL 1:
Completion of a 200-hr. or greater teacher training, and/or current regular yoga teaching.
Completion of the required reading before training begins (Active Birth by Janet Balaskas)
Practice with audio podcast
LEVEL 2:
Completion of Level 1
Essay
Hours:
Saturday-Tuesday 9am – 6pm
additional time Sunday night 7:00-8:30pm 
Cost:
$750 (early registration $675 if paid in full one month prior).
Registration must be received no later than one week before training in order to complete the required reading (about 3-4 hours worth of reading).
Additional discounts:   If you register for both Level 1 and Level 2 at the same time, total cost is $1300.   That's $200 off the full price of both trainings.   You must register one month in advance of the Level 1 training for this discount.
If you have further questions:  Contact Barrett
for any of the above trainings!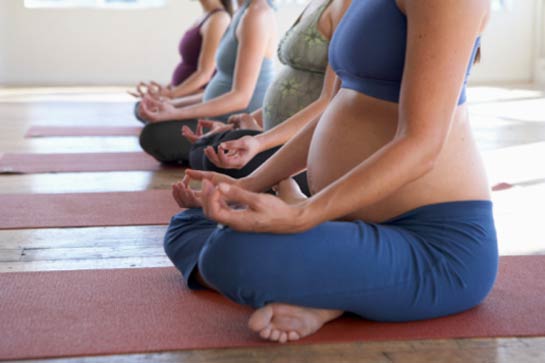 About Level 1 & Level 2 training 
Five Points Yoga, and Barrett Lauck Reinhorn, are registered with the Yoga Alliance as a Prenatal Yoga School.
Level 1 is a basic training that will equip you to teach outstanding prenatal yoga classes.
Level 2 is an advanced training, only for those who have completed Level 1, and is designed to take your teaching and understanding of prenatal yoga to a superior level.
At the completion of both levels of training, you will receive a certificate of completion.
The two trainings together make any Yoga Alliance Registered teacher (200-hour or more) eligible for prenatal registration with the Yoga Alliance (Yoga Alliance requires 75 contact hours of training for prenatal yoga registration).
Refunds more than 30 days in advance subject to a $75 processing feel.  There are no refunds less than 30 days in advance.