Over the years, I've kept lots of journals.  I still have all my journals from childhood and my teens stored away. However,  I haven't kept a regular journal in a few years – just a few sporadic writings here and there.  
Recently, I've picked it up again though.   I've been keeping a gratitude journal.  This is an idea I heard years ago, I think on Oprah(!!).   The idea is that every day you write down 5 things you're grateful for (to read more details about it, click here).  It can be anything – from a really exciting event (I got a new job!  I just went skydiving!) to the most basic of things (I love my parents.   I'm happy for a roof over my head.). It's a very private practice for me, and so I often repeat myself, or write similar things in different ways, because it's just a reflection of what's inside in that moment.
Some days you find you're spilling over with gratitude, and that's fun.  However, I think it's especially helpful if you've had a bad day.   Usually, the gratitude journal helps put everything in perspective.  There's so much to be grateful for – we are so lucky – even if we have some terrible days along the way, you know?
One thing I'm finding as I'm keeping the gratitude journal – yoga shows up on it almost everyday.  I use it for so many things, and there's so many parts of yoga to be thankful for. 
So here's 5 (that I want to share) things I'm grateful for today:
1) I'm so happy to have had the beautiful weekend (and Monday)!   It's helping me not care about the gray and rain today.
2) The impatiens on my deck.   They're the only flowers out there that look good with lots of rain.
3) My farm share – the greens have been amazing this year, and I have so many yummy choices in my fridge currently.
4) Andala tea – spicy Middle Eastern goodness at my favorite café
5) My bike – it's so fun to bike to work, and now I have a bike rack so I can carry more easily. 
And one more, because they're just flowing today!
Bonus: Hand to big toe pose – awesomely fun today!  Felt like I could hold it effortlessly forever.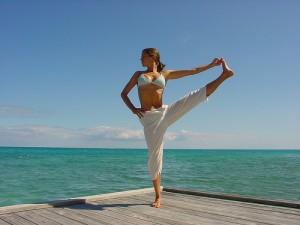 In gratitude,
Barrett