Yesterday, I taught a free yoga class outside in Copley Square, sponsored by Healthworks.   It was really fun!  It was really hot!   I was impressed by the yogis who stuck with me as the noontime sun came up over the churches and high rises all around us.
I did a practice focused on balancing, given that we're in a seasonal change and making a transition always requires a rebalance in our systems.   I also talked a bit about how amidst the hubbub all around us, we learn through yoga practice how to tune into ourselves, and tune out the other chatter.
No where might this be more evident than lunchtime in Copley Square!   As we were practicing, there were hundreds of people milling about, noises from the streets around us (why are buses so incredibly loud in this town??), and of course, the breeze and the trees and the charms of being outside.   We noticed all these things, but didn't let it distract us from our postures, especially our balance postures!
Here's a pic of us in action – looking up to the sun: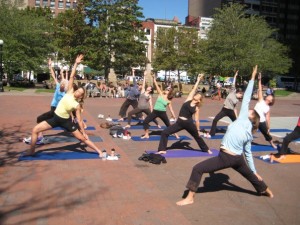 After the class, I was speaking to a few of the yogis.   One woman mentioned that she really noticed that her practice has helped her focus in.  She was surprised by how undistracted she was!   It was a good experience for her to "test" out her concentration abilities outside of the bubble of the yoga studio.
Of course, we need that quiet safe haven of the studio, but isn't it nice to know that with practice, we can be in the whirlwind all around us and still manage to find a deep, slow breath?
Namaste!
Barrett