Mom and Baby Yoga – Fridays 1:30 – 2:45pm Starts today!  Taught by Barrett
Sunrise Yoga – Thursdays 6:30-7:45am Starts April 30, taught by Sarah
I'm really excited to be starting my new moms yoga class today at Black Lotus!! This is one of my favorite classes to teach, and one of the most challenging – there's a lot going on.  I think of the class as controlled chaos

But, it's extremely helpful for new moms.   We focus on a mom's essential needs postpartum:
–          to move and breathe in a way that feels invigorating but restful
–          to strengthen and tone the physical body postpartum, especially focusing on the pelvic floor and abdomen
–          to relax mentally and go with the flow of caring for a newborn
–          to enjoy time with your new baby
–          to connect with other new moms in a supportive space
We do this by making the babies as comfortable as possible in the beginning of class.   I invite moms to come early, to feed and swaddle their babes and make them content.   Then we get down to business with yoga!   Of course, sometimes babies will need something during the 75 minutes of our class.   We have specific standing, sitting, nursing, and lying down postures to practice with the baby as well, so you can stay in the yoga zone even if your baby needs to be held for a bit.
We also work in stages, so the class is appropriate even if you're newly postpartum.   When you first begin attending, you'll work with the most gentle postures, and after several weeks, you'll move into more intermediate and advanced postures.
Also at Black Lotus, Sarah is offering a Sunrise Yoga class starting April 30!
This 8-week class will help you dedicate time in your life to your yoga practice in two ways: Class will meet every Thursday morning from 6:30-7:45 AM for 8-weeks beginning April 30.  In addition, every other week, Sarah will post a 5-20 minute podcast for you. These podcasts will be mini-yoga classes to help fortify your practice and  give you some material to work with on your own. Pod casts will have the following topics: yoga at your desk; breathing easy; feel the stretch (for flexibility); rinsing out (twisting series). Tuition for the full course is $99. Please call or stop in to Black Lotus to reserve your spot today! 617.899.4775
See you on the mat!
Barrett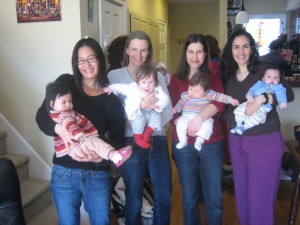 New moms and babies at a recent brunch I hosted at my house