Liz wrote her story addressed to her little son Sebastian, born back in December.  This was Liz's second birth.  It's detailed, so I highlighted some of the parts that remind me of our yoga practice.  I don't have a picture of them, but I put in some pictures to correspond to the visualizations she used in her birth, which is such an important part of getting into the primal birth mind.
—-
It was a Tuesday. Your dad and I both went to pick Leo up from school together. This was a special treat that we had never done before – we went straight to get a Christmas tree afterwards! We came home and set up the tree and were about to put lights on it. Leo was being goofy and physical – it was around 6:30 and his dinner was almost ready on the stove. We were having a tickle fight on the living room couch when all of a sudden I felt a strong POP! inside me. It felt like you had punched me in the bladder! I got up and said "WHOAH" and immediately thought "is this what the next three weeks are going to be like?" (I had about 2 weeks and 3 days until your due date.) I got my answer as I felt a gush between my legs the next moment. I ran to the bathroom to check, but I knew that my water had broken. I texted our doula and she suggested that I go take a shower, assess how I was feeling, and call her back.
All of a sudden, things shifted into "Game time" mode. Your dad started feeding Leo dinner and I began to pack up what remained of the hospital bag. I started to have very low grade contractions while I was doing this. I called the hospital and my midwife called me back about 10 minutes later. I wanted to come in because I was afraid my contractions would escalate quickly as they say they do for a second baby. She told us to take our time coming in, but to make our way in in the next few hours.
I made sure to have something to eat before we left. Your dad had made a huge pot of chili for dinner (which we planning on freezing most of in prep for your arrival), but I didn't want to eat that. I had a pb and j sandwich instead. We packed up Leo's bedtime stuff and brought him over to Auntie Sarah's.
We got to the hospital and passed my midwife in the lobby. She was just finishing her shift. She said "Well, you don't look like you're in active labor," which told me that I was a long way off. But we went up to labor and delivery anyway. The doula arrived and sat with us while they monitored me. The nurse asked me lots of questions, but the funniest one was "What is your plan for managing labor pain?" I didn't really know how to answer her – she started throwing out techniques like hypnobirthing, etc. I said "Well, I'm going to breathe through it." She seemed skeptical. I also asked if the big birthing tub was available and she said I needed to have tests done for that. I told her I was good to go with those, and she informed me that the tub room was indeed free!
The midwife who was on call that night said I shouldn't be admitted yet, because I had a while to go. She suggested either going home or going for a walk. I was nervous about losing the room with the birthing tub if we left. The doula suggested we go for a walk. We walked along the river on Memorial Drive. It was beautiful and quiet except for the cars driving by. We walked all the way to Harvard Square. When I had a contraction, I would stop, lean on your dad, and the doula would put her hand up the back of my coat and massage my lower back. We must have looked like quite a trio! We walked for about an hour and eventually turned back to the hospital.
We headed to the lobby to sit. I got out my knitting. The doula suggested your dad take a nap in the car for a bit.  Every time a contraction came, I put down my knitting, got on my knees and leaned on the nearby side table. The doula came over and wordlessly rubbed my back. When the contraction ended, our conversation resumed. This went on for about 2 hours!   The doula suggested we go for another walk (it was about 1 am at this point), and we left the hospital again. This time, I only got a little ways down the block when I had a more painful contraction. It made me want to be in the hospital room, so we turned around.
The room had a big room with a hospital bed in it and then a smaller anteroom with the birthing tub in the center. I had to lie in the bed for a while while they got a read on the baby (you!) again.  The doula suggested I use the birthing tub for pain relief. I got on all fours and they sank some towels for my knees. The contractions were getting more painful, and the doula reminded me to stay low in my moaning, not to get too high pitched. Both your dad and the doula moaned with me, which was really helpful. At some point, I asked the midwife to check me and see how far along I was.  I was 7 cm and 95% effaced! That was encouraging news to me.
I got back in the bed for a while and they wrapped me up in these big warm blankets, which made me feel held and taken care of.  The mood of the room was one of quiet calm.
Later on, in the tub again, I got back on all fours.  During the contractions, I pictured the beautiful beach at Tulum and I pictured the sound of your name kind of rolling over the wave, like you were slowly coming towards me.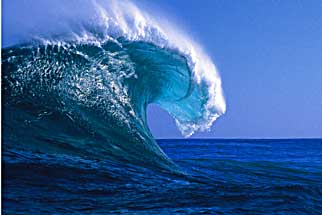 The midwife checked me again and said I was 10 cm, but that there was still a "forebag" of water in front of your head. That explained why you were so slow in coming! I had more contractions in the tub, and I almost fell asleep on the circus peanut in between them. Suddenly, I felt a POP! like the one when I was wrestling Leo and I knew that the forebag had popped. Immediately I felt you start to move down.
I had explained to the doula previously that I hated pushing with your brother Leo. My sense was that that was because they had me do directed pushing, where they counted and told me to bear down and hold my breath. This time I was allowed to "breathe him down," as the midwife kept saying. I didn't bear down at all. I continued to ride the wave of contraction, but it was much more intense as my body pushed you towards the birth canal. I started to get scared. It felt like the intensity was definitely going to be too much and I started to doubt my ability to do it without someone telling me what to do and how to make it happen. I had lots of contractions where I just rode it out and hardly bore down at all. The few times I did try pushing terrified me. It started to be a long time (in my opinion; I have no idea how long it really was), but the midwives kept saying that the baby was almost here. I expressed my concern about how slow you were, and the midwife just kept saying "he's perfect," and looking me directly in the eyes. It was so reassuring and gentle.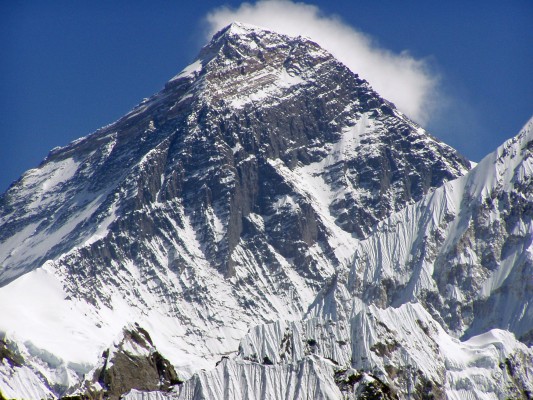 I was so concerned with everyone else in the room, the doula said to me "give me your mind," meaning stop worrying about everyone else and just be in your body. It was hard to do that – to trust that my body could do it and knew what to do on its own. I expressed my doubts about being able to push you out, and the said that it was like climbing Mount Everest – that I was so close to the top but I had the hardest stretch (pardon the pun!) ahead of me. I immediately switched to visualizing a mountain during each contraction, with a ridge of ice separating me from the top. It was beautiful but cold and barren and challenging. There was nothing glamorous about the noises I was making now – they more closely resembled screams than moans.
I had a contraction that pushed you down into the birth canal. It was an overwhelming physical feeling to have you halfway in there, and I could feel myself resist it and kind of pull you back inside of me as the contraction waned. Then, the next time a contraction came, the same feeling happened again. It was like I was going to stretch so far I might break my pelvic bones. I pushed through the contraction and the midwife told me to reach down and touch your head! As the contraction waned, I made up my mind that I was going to keep pushing you out. I said "FUCK!" and pushed as hard as I could. Immediately I heard lots of words of encouragement from everyone. What stood out was midwife's gentle voice saying "there he is," and then "reach down and grab him." And you were in this world, just like that. You were BORN and I did it by listening to my body and letting it take its time. It was 7:39 am and "Hallelujah" by Jeff Buckley was playing. You were covered in vernix so you looked kind of ghostly. But you cried right away and I held you in my arms. I looked up to my right shoulder where your dad was, and gave him a big kiss.
I was free to hold you and look at you in wonderment. You were just perfect – you had these long, thin fingers with long fingernails on them. You barely had any lashes at all – they were short and blond. You had very little hair on your head too – it was quite blond as well, with sideburns!    You weighed 8 pounds, 2.5 ounces – I am so glad you decided to come when you did!
So those are the facts about your birth. The thing is, all of the details don't even begin to capture the feelings I was having while I was in labor. I felt a sense of intense calm when we were in the dark room, waiting for active labor to start. I felt held and cared for by everyone in the room. In a way, I felt like a baby myself, especially when they wrapped me up in the warm blankets and I lay down on the bed in the middle of labor. When I started to push, it was a primal feeling to have my body take over like that. My mind struggled to maintain control, but I had to let go and shriek and let my body do what it needed to do to push you out. Then there was this feeling in the final push where I knew I was going to do it, even after doubting prior to that. I am left with a feeling of intense confidence and pride in myself and in my body – in what it can do and what it can make. It made you – in all of your tiny perfection. It grew you big and strong in just 37 weeks. You came out crying and you knew how to suck and nurse right away. So I am also intensely proud of you. From the moment your dad cut the cord, you became your own separate little being, starting on the path of growing more independent and separating yourself from me. Right now I am just so glad to have you on the outside, and to enjoy all of the snuggles I've had so far and those that are yet to come. I love you more than you can imagine already. And I'll love you more and more each day.